'); } var S; S=topJS(); SLoad(S); //-->
---
Print ˇFeliz día del haggis!

Quickly Print - PDF format

Quickly Print - HTML format
Your Help is Needed! Help Improve This Story and the Spanish text. Leave your corrections and comments about the Spanish text in this story.


Other Languages
English: Happy Haggis Day!

---
ˇFeliz día del haggis!
By Beth A. Beutler
Translation by Traductor TT
---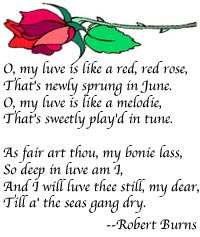 1
Querido diario,
2
Estoy de vacaciones de invierno con mi primo que vive en Escocia. Nunca he estado aquí antes y, ˇcielos, qué diferentes son las cosas! Tienen algunas costumbres y días festivos interesantes.
3
Hoy resulta ser un día en el cual los escoceses tienen una cena especial en honor de uno de sus poetas favoritos, Robert Burns. Conmemoran su nacimiento con una comida de haggis. El haggis no es algo que elegiría para la cena. Escribiré más sobre ellos en un minuto.
Paragraphs 4 to 10:
For the complete story with questions: click here for printable
---
Weekly Reading Books
---
More Activities, Lesson Plans, and Worksheets




Copyright © 2011 edHelper