'); } var S; S=topJS(); SLoad(S); //-->
---
Lead in Toys: Mrs. Cooney Worries
Reading Level

| | | |
| --- | --- | --- |
| | edHelper's suggested reading level: | grades 6 to 8 |
| | Flesch-Kincaid grade level: | 6.17 |

Vocabulary

| | | | |
| --- | --- | --- | --- |
| | challenging words: | | cookware, infection-causing, scrutiny, marketplace, hearing, best, Cooney, Hatley, irreversible, representative, suspect, coordinates, impair, banning, bond, lead-based |
| | content words: | | America Inc, Character-Themed Lapel Pins, When Mrs, Consumer Product Safety Commission, United States, Product Safety Commission, Toy Safety Seminar, Product Safety |
---
Print Lead in Toys: Mrs. Cooney Worries

Quickly Print - PDF format

Quickly Print - HTML format

Proofreading Activity


---
Feedback on Lead in Toys: Mrs. Cooney Worries


---
Lead in Toys: Mrs. Cooney Worries
By Jennifer Kenny
---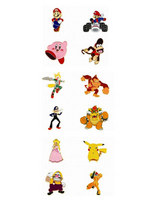 1 Caption: Nintendo of America Inc. recalled about 71,000 Character-Themed Lapel Pins in 2007 after discovering that paint on the pins contained high levels of lead.

2 Mrs. Cooney is a children's librarian. She works at the local library right in town. Her job consists of many different activities. She creates art projects for the little ones. She coordinates movie nights. She reads during story hours. She's been known to put on a puppet show or two. She even runs summer reading programs. She enjoys her job which allows her to work with children.

3 Last summer children in the summer reading program earned a prize each time they read a certain number of books in a week. One of the prizes was a bendable animal like a cat or dog. When Mrs. Cooney came to work this morning, she checked her email like always. She was so upset as she read the first message. Those prizes that she had distributed had been recalled.

4 Why were the prizes recalled? They had high levels of lead content in them. What is a recall? It's a notice that something is wrong with an item. It can be a toy, a food, or even a car that has been recalled. There have been recalls because of problems with pet food, contaminated meat, and even infection-causing contact lens solution. Sometimes the item can be fixed; sometimes it should never be used again. It just depends on what the problem is. Often the problem is a danger to people

Paragraphs 5 to 14:
For the complete story with questions: click here for printable


Extended Activities:

1. Make a list of symptoms of lead poisoning. Find out what the treatment is.

2. Research a list of 10 recalled items. What was the reasoning behind each recall?

3. Find out what "green" toys are. Give an example of one in picture form.



---
Weekly Reading Books
---
More Lessons


---
More Activities, Lesson Plans, and Worksheets




Copyright © 2011 edHelper