'); } var S; S=topJS(); SLoad(S); //-->
---
The Case of the Disappearing Bats
Reading Level

| | | |
| --- | --- | --- |
| | edHelper's suggested reading level: | grades 6 to 8 |
| | Flesch-Kincaid grade level: | 7.38 |

Vocabulary

| | | | |
| --- | --- | --- | --- |
| | challenging words: | | affliction, pipistrelle, sanitary, unanswered, worthless, long-eared, small-footed, upstate, currently, prior, mines, deplete, knowing, collapse, strategy, reside |
| | content words: | | New York, When Mark, Environmental Conservation |
---
Print The Case of the Disappearing Bats

Quickly Print - PDF format

Quickly Print - HTML format

Proofreading Activity


---
Feedback on The Case of the Disappearing Bats


---
The Case of the Disappearing Bats
By Jennifer Kenny
---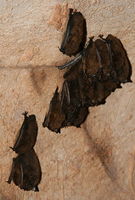 1 Mark and his father have a unique hobby. They like to explore caves where they live in upstate New York, when the warmer weather moves in, of course. Mark assumed this year would be no different. However, that was not to be the case.

2 Mark's father explained that there was an issue with the bats that normally stay in some of the caves while they hibernate. Scientists were issuing warnings to the public in general, but especially hikers, photographers, and spelunkers, about entering mines and caves. When Mark complained that he couldn't understand what the problem was, Mark's father explained that numerous bats had disappeared. Without knowing the why behind the issue, scientists felt it was safer for both the public and the bats if people keep away. In fact, biologists are even entering the habitats of the bats with respirators and sanitary clothing just in case the disease is spread to or from people. Their procedures are protection for the scientists and bats.

3 Mark couldn't understand what the concern would be about bats near his residence. In fact, most people cringed when they heard that Mark and his dad would go anywhere bats reside. Mark and his father understood the importance of bats in the ecosystem. In some people's minds, bats were ugly, frightful, and worthless. Mark knew better. Did you know that one bat can eat 3,000 flying insects each summer night? Many of these insects are agricultural pests that no other animal consumes.

Paragraphs 4 to 10:
For the complete story with questions: click here for printable


Extended Activities:

1. Create a poster on the characteristics of bats.

2. Research colony collapse disorder. Compare/contrast to white nose syndrome in bats.

3. Create a 3-D model of a bat's habitat.

4. Draw a diagram of a bat on a food chain.

5. Find out why a bat is a mammal but not a bird.



---
Weekly Reading Books
---
Bats


---
More Lessons


---
More Activities, Lesson Plans, and Worksheets




Copyright © 2011 edHelper