'); } var S; S=topJS(); SLoad(S); //-->
---
What Is a Star?
Reading Level

| | | |
| --- | --- | --- |
| | edHelper's suggested reading level: | grades 2 to 4 |
| | Flesch-Kincaid grade level: | 2.57 |

Vocabulary

| | | | |
| --- | --- | --- | --- |
| | challenging words: | | gravity, picture, billion, lasts, kinds, heat, born, giant, space, million, another, number, dust, life, between, different |
| | content words: | | Milky Way Galaxy, Don F., Way Galaxy |
---
Print What Is a Star?

Quickly Print - PDF format

Quickly Print - HTML format

Proofreading Activity


---
Feedback on What Is a Star?


---
What Is a Star?
By Cindy Grigg
---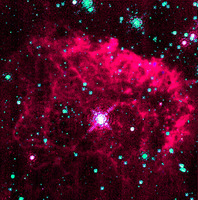 1
The picture shows one of the brightest stars in the Milky Way Galaxy -- ten million times brighter than our sun. The red color is caused by the dust around it. Credit: NASA and Don F. Figer (UCLA)
2
Life on Earth depends on the sun. It gives us light and heat. Nothing could live on Earth without the sun. Our sun is a star. It is the only star in our solar system, but it is only one of many stars in space. How many stars do you think there are? Take a guess! Then read the rest of this story to find out if you are right.
3
A star is a huge ball of gas in space. The gas is held together as a ball because of gravity. Stars give off enormous amounts of light. They give off other kinds of energy, too.
Paragraphs 4 to 7:
For the complete story with questions: click here for printable
---
Weekly Reading Books
---
More Activities, Lesson Plans, and Worksheets




Copyright © 2012 edHelper