'); } var S; S=topJS(); SLoad(S); //-->
---
Fawn Finds Fall


Print Fawn Finds Fall Reading Comprehension with First Grade Work

Print Fawn Finds Fall Reading Comprehension



Reading Level

| | | |
| --- | --- | --- |
| | edHelper's suggested reading level: | grade 1 |
| | Flesch-Kincaid grade level: | 0.00 |

Vocabulary

| | | | |
| --- | --- | --- | --- |
| | challenging words: | | seen, ears, flying, across, back, bird, blew, color, cool, food, grass, home, instead, land, leaf, leaving |

Other Languages
Spanish: Cervatilla encuentra el otoño


---
Fawn Finds Fall
By Brenda B. Covert
---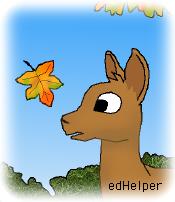 1
Fawn had seen spring. Trees were green and it was warm in spring. Fawn had seen summer too. Summer was hot. The grass was green. The trees were green. Fawn's home was green. It had always been green.
2
As Fawn looked for food one day, she saw a leaf. It lay on the grass. A day ago it had been in the tree. It had been green. It was not green now. It was red!
3
Fawn looked up. She saw red leaves! She saw yellow leaves! She saw green leaves too. Did someone play a trick? Did someone color the leaves? The trees looked pretty, but Fawn did not think red and yellow were good colors for leaves.
Paragraphs 4 to 9:
For the complete story with questions: click here for printable
---
Weekly Reading Books
---
Feedback on Fawn Finds Fall


---
Autumn


---
Fall


---
More Lessons



Copyright © 2018 edHelper