'); } var S; S=topJS(); SLoad(S); //-->
---
Three by Three for Clowns


Print Three by Three for Clowns Reading Comprehension with First Grade Work

Print Three by Three for Clowns Reading Comprehension with Second Grade Work

Print Three by Three for Clowns Reading Comprehension



Reading Level

| | | |
| --- | --- | --- |
| | edHelper's suggested reading level: | grades 1 to 2 |
| | Flesch-Kincaid grade level: | 0.4 |

Vocabulary

| | | | |
| --- | --- | --- | --- |
| | challenging words: | | school, clown, balls, counting, counts, doing, floppy, likes, sees, ball, class, decide, desk, each, group, hair |
| | content words: | | Dilly Bob, Miss O. T. |

Other Languages
Spanish: De tres en tres para los payasos


---
Three by Three for Clowns
By Brenda B. Covert
---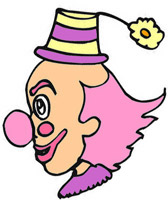 1
Clown school opens today. Lots of clowns will come. They want to learn tricks. They need to be funny. They will learn how to be good clowns.
2
Miss O.T. has a box. Her class will learn how to juggle. The box has balls in it. She takes it to her desk.
3
Two clowns run into the room. One has pink hair and a big pink nose. Her name is Twink. The other one has a big blue hat and floppy green shoes. He's called Dilly Bob.
4
"What are you doing?" Twink asks the teacher.
5
"I'm getting the balls out for juggling class," Miss O.T. says.
Paragraphs 6 to 15:
For the complete story with questions: click here for printable
---
Weekly Reading Books
---
Feedback on Three by Three for Clowns


---
More Lessons



Copyright © 2018 edHelper