'); } var S; S=topJS(); SLoad(S); //-->
---
Tommy Tortoise Goes on a Trip


Print Tommy Tortoise Goes on a Trip Reading Comprehension with Second Grade Work

Print Tommy Tortoise Goes on a Trip Reading Comprehension with Third Grade Work

Print Tommy Tortoise Goes on a Trip Reading Comprehension



Reading Level

| | | |
| --- | --- | --- |
| | edHelper's suggested reading level: | grades 2 to 3 |
| | Flesch-Kincaid grade level: | 4.48 |

Vocabulary

| | | | |
| --- | --- | --- | --- |
| | challenging words: | | cinder, frantic, quarter-mile, trailer, trickle, trusty, volunteer, rested, posted, longer, normally, tortoise, lived, nowhere, trip, adventure |
| | content words: | | Todd Tucker, When Theresa, Lester Turner |

Other Languages
Spanish: Tommy la tortuga sale de viaje


---
Tommy Tortoise Goes on a Trip
By Joyce Furstenau
---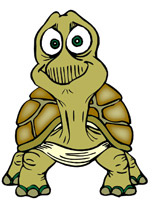 1
Tommy the tortoise went on a trip. He left home on a Tuesday. Tommy lived in a trailer with his owners, Theresa and Todd Tucker. Tommy was a Sulcata land tortoise. Tommy was a Christmas present for Theresa. Tommy normally lived inside, but Theresa gave him regular outside breaks in a pen in the yard beside their trailer. The pen was made of cinder blocks.
2
Tommy got travel fever, and he knocked over some of cinder blocks in order to get out. When Theresa went outside to bring in Tommy, Tommy was nowhere to be found. Theresa was frantic.
3
Tommy decided it was time to travel. He took off towards the north. Tommy saw great desert mountains to the north. He had never been to the mountains. He thought this would be a perfect place for a traveling tortoise, so Tommy ambled off on his first adventure.
Paragraphs 4 to 9:
For the complete story with questions: click here for printable
---
Weekly Reading Books
---
Feedback on Tommy Tortoise Goes on a Trip


---
Pets Theme Unit



Copyright © 2017 edHelper