'); } var S; S=topJS(); SLoad(S); //-->
---
The Interview


Print The Interview Reading Comprehension with Second Grade Work

Print The Interview Reading Comprehension with Third Grade Work

Print The Interview Reading Comprehension



Reading Level

| | | |
| --- | --- | --- |
| | edHelper's suggested reading level: | high interest, readability grades 2 to 3 |
| | Flesch-Kincaid grade level: | 2.2 |

Vocabulary

| | | | |
| --- | --- | --- | --- |
| | challenging words: | | secretary, t-shirt, wrinkles, jewelry, honestly, minutes, messy, ripped, call, excited, picked, store, early, figure, everyday, hire |
---
The Interview
By Cathy Pearl
---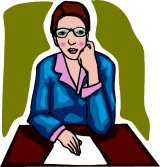 1
Anne got a call yesterday. It was from a store she really wants to work for. They asked her to come in for an interview.
2
Anne was very happy. She was also very nervous. If she wasn't good at the interview, the store wouldn't hire her. She had to make them like her. She also had to show them that she could be good at the job.
3
The first thing Anne had to figure out was what to wear. She couldn't go to the interview in her ripped jeans and t-shirt. She went to her closet and looked at her clothes. Anne picked out a nice pair of dress pants. They were blue. Then, she picked out a dress shirt. It buttoned and was purple. The outfit would not look messy. She would look very nice.
4
Anne made sure her clothes did not need ironing. She did not want them to have wrinkles. They were clean and wrinkle free. Anne dressed carefully. She put nice shoes on her feet. Sneakers would not look nice. They would make her look messy. She only wore a little bit of jewelry. The store would not like all the necklaces and bracelets that she usually wore.
Paragraphs 5 to 11:
For the complete story with questions: click here for printable
---
Weekly Reading Books
---
Feedback on The Interview



Copyright © 2018 edHelper