'); } var S; S=topJS(); SLoad(S); //-->
---
The Owl and the Mouse


Print The Owl and the Mouse Reading Comprehension with Second Grade Work

Print The Owl and the Mouse Reading Comprehension with Third Grade Work

Print The Owl and the Mouse Reading Comprehension



Reading Level

| | | |
| --- | --- | --- |
| | edHelper's suggested reading level: | grades 2 to 3 |
| | Flesch-Kincaid grade level: | 2.89 |

Vocabulary

| | | | |
| --- | --- | --- | --- |
| | challenging words: | | finding, plea, various, whoo, whooo, stayed, bits, resting, canyon, cloudy, hare, swoop, flying, return, whenever, nearby |
| | content words: | | When Owl |
---
The Owl and the Mouse
By Joyce Furstenau
---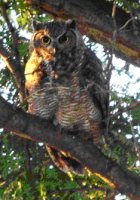 1
The little brown mouse stayed in his house when Owl was on the prowl. The mouse did not want to be the owl's next meal. Owl prowled around for food at night. The owl found his food with his large owl eyes. When Owl was flying, he did not make a sound. The little mouse was quite frightened of the owl.
2
One night, Owl was silently flying south in the twilight. He had his eyes on a wild hare running across the meadow. Owl did not see a new power line stretched across his flight path. He was keeping his eyes on his prey. The owl hit the power line with such force he broke his wing. Owl fluttered to the ground in pain.
3
Mouse was resting in his house when he heard a loud cry from the distant meadow. "Whooo, whooo, whooo will help me?" he heard. Mouse peeked out of his house and looked at the night sky. He could not see the owl flying about.
4
Again he heard the cry, "Whooo, whooo, whoo will help me?" The little brown mouse left his house and scampered across the field. He found Owl lying on the ground. It was clear to Mouse that Owl was in pain.
Paragraphs 5 to 12:
For the complete story with questions: click here for printable
---
Weekly Reading Books
---
Feedback on The Owl and the Mouse



Copyright © 2018 edHelper