'); } var S; S=topJS(); SLoad(S); //-->
---
The King Who Couldn't Sing


Print The King Who Couldn't Sing Reading Comprehension with Second Grade Work

Print The King Who Couldn't Sing Reading Comprehension with Third Grade Work

Print The King Who Couldn't Sing Reading Comprehension



Reading Level

| | | |
| --- | --- | --- |
| | edHelper's suggested reading level: | grades 2 to 3 |
| | Flesch-Kincaid grade level: | 5.38 |

Vocabulary

| | | | |
| --- | --- | --- | --- |
| | challenging words: | | kingdom, atop, courtyard, lifelong, mustang, throng, tongue-twister, lived, fastest, beside, working, sounded, offer, forward, simple, nearby |
| | content words: | | Sidelong River, Whistling King |

Other Languages
Spanish: El Rey que no Sabía Cantar


---
The King Who Couldn't Sing
By Joyce Furstenau
---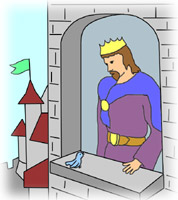 1
Long ago in a kingdom beside the Sidelong River lived a king. He was known throughout the kingdom as the King Who Could Not Sing. He wanted to be known as the Singing King, but he could not even sing a simple tune. The king wanted to learn to sing so badly that he offered his fastest mustang to anyone who could teach him to sing.
2
A long line of subjects came forward in answer to the king's offer. The first young man tried teaching the king a simple eight-note scale, but each note sounded worse than the last. One young man tried teaching the king to sing a tongue-twister song. When the king tried to sing it, his tongue became so twisted that he couldn't even speak so he quickly gave up. A third man tried teaching the king a love song. He sang it so badly that everyone who heard it began crying.
3
Before long, the king had completely lost hope of ever learning to sing. Everyone along the length of the Sidelong River had tried to teach him; still, the king could not sing a single note.
Paragraphs 4 to 7:
For the complete story with questions: click here for printable
---
Weekly Reading Books
---
Feedback on The King Who Couldn't Sing



Copyright © 2018 edHelper