'); } var S; S=topJS(); SLoad(S); //-->
---
Tulip, the True-Blue Kangaroo


Print Tulip, the True-Blue Kangaroo Reading Comprehension with Second Grade Work

Print Tulip, the True-Blue Kangaroo Reading Comprehension with Third Grade Work

Print Tulip, the True-Blue Kangaroo Reading Comprehension



Reading Level

| | | |
| --- | --- | --- |
| | edHelper's suggested reading level: | grades 2 to 3 |
| | Flesch-Kincaid grade level: | 4.59 |

Vocabulary

| | | | |
| --- | --- | --- | --- |
| | challenging words: | | bugle, true-blue, zebu, exactly, kinds, dandelion, tuba, noon, broom, group, however, stool, flow, true, closet, breeze |
| | content words: | | Julie Kangaroo, Edna Emu, Bobby Baboon, Gary Gnu, When Tulip |
---
Tulip, the True-Blue Kangaroo
By Joyce Furstenau
---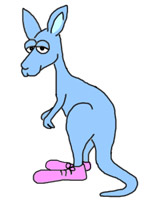 1
Tulip was a blue kangaroo. Tulip did not look like the other kangaroos in her school. Besides being blue, Tulip wore shoes and brought a suitcase to school. Tulip knew she was special because she was blue.
2
At noon, Tulip saw the popular group of gray and brown kangaroos eating lunch. She started to sit beside them, but Julie Kangaroo said, "Sorry, Tulip. There's no room for you here!" Tulip saw that there was room for at least three more at the table. Tulip did not want to argue with Julie. She sat in her usual spot on a stool by the broom closet. She ate her soup and listened to music.
3
Tulip didn't really care what the other kangaroos thought. She knew she was special because she was blue. Tulip was always in a good mood. She wouldn't let the rude kangaroos ruin her day. Tulip finished her lunch and then went to music class.
Paragraphs 4 to 7:
For the complete story with questions: click here for printable
---
Weekly Reading Books
---
Feedback on Tulip, the True-Blue Kangaroo



Copyright © 2018 edHelper