'); } var S; S=topJS(); SLoad(S); //-->
---
Would You Like to Be a Nurse?


Print Would You Like to Be a Nurse? Reading Comprehension with Fourth Grade Work

Print Would You Like to Be a Nurse? Reading Comprehension with Fifth Grade Work

Print Would You Like to Be a Nurse? Reading Comprehension



Reading Level

| | | |
| --- | --- | --- |
| | edHelper's suggested reading level: | high interest, readability grades 4 to 5 |
| | Flesch-Kincaid grade level: | 4.82 |

Vocabulary

| | | | |
| --- | --- | --- | --- |
| | challenging words: | | supervise, diploma, salary, clinic, physiology, exotic, anatomy, education, university, military, emergency, elementary, wherever, different, schools, health |
| | content words: | | United States |

Other Languages
Spanish: ¿Te gustaría ser enfermero o enfermera?


---
Would You Like to Be a Nurse?
By Kathleen W. Redman
---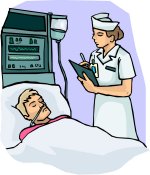 1 There are many different kinds of nurses. All of them take care of people's health in some way. They help doctors prevent disease. They help people learn about illnesses and medications. They work very hard when there is an emergency. Sometimes they even save lives.

2 Nurses have many chances to help other people. They can do many good things in the world every day. Most people think that nurses are very special.

3 Do you think you would like to be a nurse? Nurses earn a good salary. If you get more education and work for many years, you will earn more money.

Paragraphs 4 to 10:
For the complete story with questions: click here for printable


---
Weekly Reading Books
---
Feedback on Would You Like to Be a Nurse?


---
Community Helpers


---
Labor Day



Copyright © 2017 edHelper