'); } var S; S=topJS(); SLoad(S); //-->
---
The Sledding Party


Print The Sledding Party Reading Comprehension with Second Grade Work

Print The Sledding Party Reading Comprehension with Third Grade Work

Print The Sledding Party Reading Comprehension



Reading Level

| | | |
| --- | --- | --- |
| | edHelper's suggested reading level: | grades 2 to 3 |
| | Flesch-Kincaid grade level: | 4.39 |

Vocabulary

| | | | |
| --- | --- | --- | --- |
| | challenging words: | | bonfire, dipsy-doodle, flyer, gleeful, laugher, re-lived, sledders, still-damp, toboggan, downhill, saucer, backyard, waves, brothers, gear, rust |
| | content words: | | Then Josh |

Other Languages
Spanish: La fiesta de trineos


---
The Sledding Party
By Joyce Furstenau
---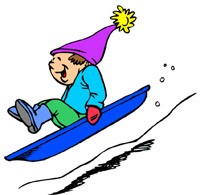 1
"It snowed!" shouted Jacob after he got up and looked out the window of his room. He woke his brothers, Josh and Ben. "It snowed!" he shouted. They jumped out of bed, looked at the snow, and shouted together, "Sledding party!"
2
The three brothers ran downstairs and woke their mother. They couldn't wait to ask if they could have a sledding party. Barely awake, she sleepily agreed, so off they went to get dressed. After breakfast, Jacob, Josh, and Ben put on their snow gear.
3
Josh got his wooden flyer sled down from its peg in the shed. He turned the sled over. The steel runners were rusty. He found an old steel wool pad in the shed and brushed the rust from the runners. Then he took some canning wax and rubbed it on them. He pulled his sled back and forth on the snow. "Perfect!" he said aloud.
Paragraphs 4 to 8:
For the complete story with questions: click here for printable
---
Weekly Reading Books
---
Feedback on The Sledding Party


---
Winter Theme Unit



Copyright © 2018 edHelper