'); } var S; S=topJS(); SLoad(S); //-->
---
How the Rattlesnake Got Its Poison (grade 2)


Print How the Rattlesnake Got Its Poison (grade 2) Reading Comprehension with Second Grade Work

Print How the Rattlesnake Got Its Poison (grade 2) Reading Comprehension



Reading Level

| | | |
| --- | --- | --- |
| | edHelper's suggested reading level: | grade 2 |
| | Flesch-Kincaid grade level: | 0.72 |

Vocabulary

| | | | |
| --- | --- | --- | --- |
| | challenging words: | | deep, bash, wuss, roots, missing, lived, snake, rattlesnake, stone, large, perhaps, since, there, until, catch, coil |
| | content words: | | Sahara Desert, Maybe Ross |
---
How the Rattlesnake Got Its Poison
By Brenda B. and Barron Covert
---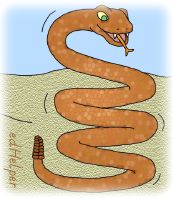 Deep in the Sahara Desert there lived a snake. It was a rattlesnake named Ross. Ross loved to spring. He would coil his body into a tight spring. He would jump up and spring on the hot sand all day. He could spring all the way to Saturn and back!
Ross was hungry. He was starving. It had been six weeks since he last ate. He could not catch something to eat. His friends caught food. They knew that Ross was missing his prey. They teased him.
"You are a sissy," they hissed. "You are a wuss."
Paragraphs 4 to 10:
For the complete story with questions: click here for printable
---
Weekly Reading Books
---
Feedback on How the Rattlesnake Got Its Poison (grade 2)


---
More Lessons



Copyright © 2018 edHelper