'); } var S; S=topJS(); SLoad(S); //-->
---
Irina's Icicle Island (grade 2)


Print Irina's Icicle Island (grade 2) Reading Comprehension with Second Grade Work

Print Irina's Icicle Island (grade 2) Reading Comprehension



Reading Level

| | | |
| --- | --- | --- |
| | edHelper's suggested reading level: | grade 2 |
| | Flesch-Kincaid grade level: | 3.91 |

Vocabulary

| | | | |
| --- | --- | --- | --- |
| | challenging words: | | chases, paradise, rink, skating, lived, chill, prove, skate, delight, north, seeing, visit, idea, land, year, fire |
| | content words: | | Princess Irina, Icicle Island, Visit Icicle Island |
---
Irina's Icicle Island
By Brenda B. Covert
---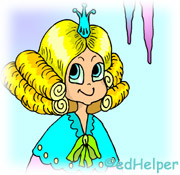 Princess Irina lived on a tiny island. It was up in the icy north. She called it Icicle Island.
Irina had an idea. She went on TV and said, "Visit Icicle Island, a frozen delight!" She said that the icicles on the island were sweet. They were pink, violet, and blue like the colors of sunrise. To prove that the icicles tasted good, the princess said that she liked to lick them!
Icicle Island was a nice place to go ice skating. "Visit Icicle Island, a skater's paradise!" Princess Irina did not skate well. She liked to tie a pillow behind her. If she slipped on the ice, she would land on the pillow. It didn't hurt at all!
Paragraphs 4 to 5:
For the complete story with questions: click here for printable
---
Weekly Reading Books
---
Feedback on Irina's Icicle Island (grade 2)


---
More Lessons



Copyright © 2018 edHelper