'); } var S; S=topJS(); SLoad(S); //-->
---
Princess Pancake


Print Princess Pancake Reading Comprehension with Second Grade Work

Print Princess Pancake Reading Comprehension



Reading Level

| | | |
| --- | --- | --- |
| | edHelper's suggested reading level: | grade 2 |
| | Flesch-Kincaid grade level: | 3.03 |

Vocabulary

| | | | |
| --- | --- | --- | --- |
| | challenging words: | | perky, platypus, porcupine, puffin, spikes, peered, piles, time, lived, once, bride, rule, upon, husband, feast, pets |
| | content words: | | Princess Pancake, Pizza Prince |

Other Languages
Spanish: La princesa Panqueque


---
Princess Pancake
By Brenda B. and Jasmine M. Covert (grade 2)
---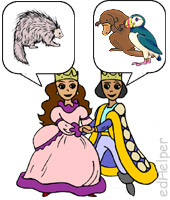 Once upon a time there lived a princess. The princess was named "Pancake." She lived in a house of pancakes. Princess Pancake had a pet porcupine! Pancake's porcupine had spikes on its back. People peeped at Princess Pancake's pet porcupine.
"Rule number one," she said politely, "is do not pet a porcupine! It will hurt!"
One day Pancake saw a prince. He was a handsome prince. He wore a cape made out of pancakes! Is that funny or what!
The prince saw the pretty princess. He said, "Hello. I am the Prince of Pizza. I live in a pizza hut, but I love pancakes."
"I am Princess Pancake," the perky princess replied. "I love pizza!"
Paragraphs 6 to 12:
For the complete story with questions: click here for printable
---
Weekly Reading Books
---
Feedback on Princess Pancake


---
Pets Theme Unit


---
More Lessons



Copyright © 2018 edHelper