'); } var S; S=topJS(); SLoad(S); //-->
---
Rotten Rose (grade 2)


Print Rotten Rose (grade 2) Reading Comprehension with Second Grade Work

Print Rotten Rose (grade 2) Reading Comprehension



Reading Level

| | | |
| --- | --- | --- |
| | edHelper's suggested reading level: | grade 2 |
| | Flesch-Kincaid grade level: | 1.37 |

Vocabulary

| | | | |
| --- | --- | --- | --- |
| | challenging words: | | longer, tears, kids, doing, were, forgive, group, dart, behave, quickly, often, past, front, believe, yard, drop |
| | content words: | | Rotten Rose |
---
Rotten Rose
By Brenda B. and Jasmine M. Covert
---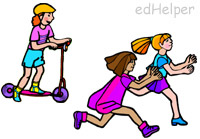 Rose's cheeks were red, and her eyes were green. Rose stole oranges from the store. She tripped boys as they walked past her. She rubbed her kitten's fur the wrong way! Rose often rolled her eyes behind her teacher's back. Everyone called her Rotten Rose.
Four trees grew in Rose's front yard. Rose hid in the branches. She threw water balloons. Girls on the sidewalk got wet. They would scream and run. Rose would drop to the ground and roll on the grass. Tears trickled down her rosy cheeks. That was how hard she laughed at those silly girls!
One day Rose felt very rotten. She was riding her scooter when she saw a group of girls. Rose rode up to the group. "What are you losers doing?" she said.
That hurt the girls' feelings. One replied, "We are not losers, and we're running away from you!" Then they all turned and ran.
Paragraphs 5 to 15:
For the complete story with questions: click here for printable
---
Weekly Reading Books
---
Feedback on Rotten Rose (grade 2)


---
More Lessons



Copyright © 2018 edHelper