'); } var S; S=topJS(); SLoad(S); //-->
---
Windy Wendy (grade 2)


Print Windy Wendy (grade 2) Reading Comprehension with Second Grade Work

Print Windy Wendy (grade 2) Reading Comprehension



Reading Level

| | | |
| --- | --- | --- |
| | edHelper's suggested reading level: | grade 2 |
| | Flesch-Kincaid grade level: | 2.14 |

Vocabulary

| | | | |
| --- | --- | --- | --- |
| | challenging words: | | backed, vine-like, wand, winding, woolly, town, swirl, stayed, night, gust, doing, glow, limbs, blew, into, power |
| | content words: | | Wally Woodrow |
---
Windy Wendy
By Brenda B. Covert
---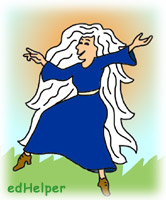 Wendy blew into town one night. The first thing folks saw was her long white hair. Her wild mane went all the way down to the ground! It billowed around her. She wore a dark blue gown. Her eyes were that same color of blue. No one had ever before seen a woman like her.
Wally Woodrow pulled a woolly yellow cap over his green hair. He followed Wendy as she wandered down a winding road. She walked toward a weeping willow tree. As the moon lit her tresses, she swung on the long, vine-like limbs! That was a weird thing for a woman to do. Then she curled up under the tree and went to sleep.
Wendy awoke at dawn. Dewdrops glistened on her hair. Wally saw her wander across the lawn. Was she a fairy? All she needed were wings and a wand.
Wally stayed hidden in the shadows as he walked. A twig snapped. Suddenly, Wendy looked back, and a gust of wind blew by.
Paragraphs 5 to 13:
For the complete story with questions: click here for printable
---
Weekly Reading Books
---
Feedback on Windy Wendy (grade 2)


---
More Lessons



Copyright © 2018 edHelper