'); } var S; S=topJS(); SLoad(S); //-->
---

Sample Ben and Bob Worksheet
Reading Comprehension Worksheets

edHelper.com Subscribers:
Build a printable worksheet with the complete story
---
Ben and Bob
By Kathleen W. Redman
---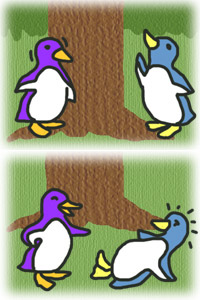 Ben Bird and Bob Bird are very funny little birds! They can walk. They can jump. They cannot fly.
One day Ben could see some red berries. They were in the tree with two branches.
"I will jump to the tree," Ben said. "I will bring the berries here."
"You will not do it," Bob said. "You will fall down again. You will look very funny."
Paragraphs 9 to 23:
For the complete story with questions: click here for printable
---
Weekly Reading Books
---
Feedback on Ben and Bob


---
Dr. Martin Luther King, Jr. Theme Unit


---
More Lessons



Copyright © 2018 edHelper