'); } var S; S=topJS(); SLoad(S); //-->
---
Whose Harp?


Print Whose Harp? Reading Comprehension with Second Grade Work

Print Whose Harp? Reading Comprehension with Third Grade Work

Print Whose Harp? Reading Comprehension with Fourth Grade Work

Print Whose Harp? Reading Comprehension



Reading Level

| | | |
| --- | --- | --- |
| | edHelper's suggested reading level: | grades 2 to 4 |
| | Flesch-Kincaid grade level: | 1.9 |

Vocabulary

| | | | |
| --- | --- | --- | --- |
| | challenging words: | | genggong, gewgaw, hillbilly, hoedown, koukins, peddlers, trinket, trompe, twang, zjeh, pluck, maker, strips, holding, bouncy, cheap |
| | content words: | | New World, Pacific Islands, In England |
---
Whose Harp?
By Toni Lee Robinson
---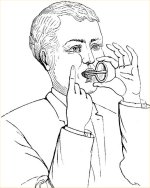 1
No one knows how the Jew's harp got its name. It's not Jewish. It's really not a harp! This odd instrument is small, about four inches long. It is made of a band of metal shaped like an onion.
2
The metal runs in two strips from the place where the onion's stem would be. A thinner strip of metal comes from the bottom of the onion. It stretches up between the "stem" strips. This thin metal bends and is kind of bouncy. It is called a tongue.
3
How do you play a Jew's harp? First, you hold your lips in a big smile. Then you place the harp against your teeth. You might look like you were holding an onion sideways in your lips!
Paragraphs 4 to 10:
For the complete story with questions: click here for printable
---
Weekly Reading Books
---
Feedback on Whose Harp?


---
Music



Copyright © 2018 edHelper