'); } var S; S=topJS(); SLoad(S); //-->
---
What Is a Collage?


Print What Is a Collage? Reading Comprehension with Fourth Grade Work

Print What Is a Collage? Reading Comprehension with Fifth Grade Work

Print What Is a Collage? Reading Comprehension with Sixth Grade Work

Print What Is a Collage? Reading Comprehension



Reading Level

| | | |
| --- | --- | --- |
| | edHelper's suggested reading level: | grades 4 to 6 |
| | Flesch-Kincaid grade level: | 5.53 |

Vocabulary

| | | | |
| --- | --- | --- | --- |
| | challenging words: | | burning, coller, decoupage, pasting, photomontages, sealant, varnish, campout, finding, medieval, calligraphers, nuns, unique, twentieth, professional, artists |
| | content words: | | Modern Cubist, Pablo Picasso, Eric Carle, Very Hungry Caterpillar |

Other Languages
Spanish: ¿Qué es un Collage?


---
What Is a Collage?
By Colleen Messina
---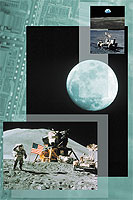 1 When you were little, you had to learn how to use scissors. Cutting pictures out of magazines might have been good practice. Pasting the pictures down was fun, too. It might surprise you that adults do cutting and pasting, too. Even professional artists enjoy making collages.

2 A collage is made from objects that are pasted or attached somewhere. The word "collage" comes from the French word, coller, which means to stick. Collages can be flat. You can use different kinds of paper in a flat collage, like tissue paper or tin foil. Collages can be made from 3D objects, too. This kind of art is called a collage in relief. The objects on a collage can be glued, nailed, stapled, or sewn down. A collage is fun because you can make one out of almost anything! Finding things for a collage is like going on a treasure hunt.

3 Most people think of paper when they think of collages. The Chinese invented paper around 200 B.C., but they didn't invent this art form. Collage started in 12th century Japan. Calligraphers glued bits of paper and fabric together. Then, they used the rough surface for their beautiful characters. Medieval artists glued gems, relics, and gold to their work. Nuns made bookmarks trimmed with colored papers for their prayer books. Some collectors made beautiful butterfly wing collages.

Paragraphs 4 to 8:
For the complete story with questions: click here for printable


---
Weekly Reading Books
---
Feedback on What Is a Collage?


---
More Lessons



Copyright © 2018 edHelper