'); } var S; S=topJS(); SLoad(S); //-->
---
Which of the Seven Ancient Wonders Is Still Here?


Print Which of the Seven Ancient Wonders Is Still Here? Reading Comprehension with Second Grade Work

Print Which of the Seven Ancient Wonders Is Still Here? Reading Comprehension with Third Grade Work

Print Which of the Seven Ancient Wonders Is Still Here? Reading Comprehension with Fourth Grade Work

Print Which of the Seven Ancient Wonders Is Still Here? Reading Comprehension



Reading Level

| | | |
| --- | --- | --- |
| | edHelper's suggested reading level: | grades 2 to 4 |
| | Flesch-Kincaid grade level: | 4.49 |

Vocabulary

| | | | |
| --- | --- | --- | --- |
| | challenging words: | | bronze, tomb, people, lasted, goddess, smart, underneath, exactly, holding, spear, kings, harbor, wife, building, pharaoh, figure |
| | content words: | | Seven Wonders, Ancient World, This Wonder, Another Wonder, Great Pyramid |
---
Which of the Seven Ancient Wonders Is Still Here?
By Colleen Messina
---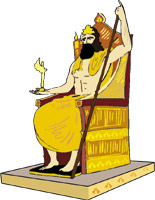 1
Smart people of long ago built some amazing things. Their most famous creations became known as the Seven Wonders of the Ancient World. As you read about them, try to figure out which Wonder is still here.
2
A statue of Zeus was so large that it almost didn't fit into its temple. Poor, big Zeus! Later, a fire destroyed him. The Colossus was a bronze statue of a man holding a spear and a torch that was 110 feet tall. This Wonder had a strange home. His feet stood in a harbor. Ships went right underneath him. Colossus broke into pieces in an earthquake when he was 56 years old. Nine hundred camels took the pieces to another country. Poor, big Colossus!
3
The Lighthouse of Alexandria was the Wonder with the most important job. It helped sailors find the shore. It had a big mirror in it. The Lighthouse was amazing, but another Wonder was even more beautiful. The Temple of Artemis honored the goddess of hunting. It had golden pillars and many statues inside of it. Some people thought it was the most graceful building in the ancient world.
Paragraphs 4 to 6:
For the complete story with questions: click here for printable
---
Weekly Reading Books
---
Feedback on Which of the Seven Ancient Wonders Is Still Here?


---
More Lessons



Copyright © 2018 edHelper