'); } var S; S=topJS(); SLoad(S); //-->
---
Print Annabelle de Uganda lucha contra el VIH

Quickly Print - PDF format

Quickly Print - HTML format
Your Help is Needed! Help Improve This Story and the Spanish text. Leave your corrections and comments about the Spanish text in this story.


Other Languages
English: Annabelle from Uganda Fights HIV

---
Annabelle de Uganda lucha contra el VIH
By Colleen Messina
Translation by Traductor TT
---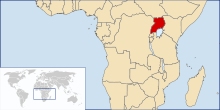 1
Annabelle se sentía triste y nerviosa. Estaba esperando los resultados de un examen. No era una examen de la escuela. Estaba en el consultorio del doctor. Le habían hecho un examen de un virus llamado VIH.
2
Annabelle tiene 11 años. Vive en Uganda. Sus padres murieron de sida. El sida es una enfermedad que proviene del virus VIH. Annabelle tiene el virus. Su mamá se lo contagió cuando la amamantaba.
3
Al menos 110,000 niños de Uganda viven con VIH y sida. Al principio, no tienen síntomas. Después, les da fiebre y tos. Se sienten como si tuvieran gripe. El VIH les debilita el sistema inmunológico. Sus cuerpos ya no pueden defenderse de las infecciones. Cuando tienen sida, se pueden contagiar muchas infecciones. La gente con sida muere por esas infecciones. No hay cura para el VIH y el sida.
Paragraphs 4 to 7:
For the complete story with questions: click here for printable

Extended Activities:

1. Imagina que te eligen para regalarle algunos juguetes a Annabelle para darle la bienvenida a tu clase. Describe tres tipos de juguetes que le darías y explica por qué le gustarían.

2. Imagina que eres el organizador de una asamblea escolar para darle la bienvenida a alumnos de países extranjeros. Escribe un discurso que darías a la escuela sobre Annabelle. Haz un póster para tu discurso que incluya información y dibujos sobre Uganda.

3. Imagina que tienes una agencia de adopciones que asigna niños como Annabelle a familias estadounidenses. Escribe una lista con cinco preguntas que le harías a cada familia sobre por qué quieren adoptar a un niño como Annabelle.


---
Weekly Reading Books
---
More Activities, Lesson Plans, and Worksheets




Copyright © 2011 edHelper