'); } var S; S=topJS(); SLoad(S); //-->
---
Print Saida va a la escuela en Afganistán

Quickly Print - PDF format

Quickly Print - HTML format
Your Help is Needed! Help Improve This Story and the Spanish text. Leave your corrections and comments about the Spanish text in this story.


Other Languages
English: Saida Goes to School in Afghanistan

---
Saida va a la escuela en Afganistán
By Colleen Messina
Translation by Traductor TT
---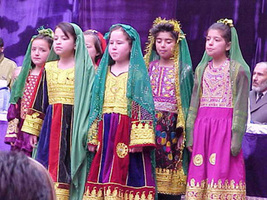 1
Leyenda: Niñas afganas con vestimenta tradicional cantan en una celebración del 8 de marzo, Día Internacional de la Mujer
2
Tal vez no tengas ganas de ir a la escuela todos los días. ¿Pero sabías que una pequeña niña de Afganistán tenía tantas ganas de ir la escuela que se lo contó a un extraño?
3
Saida vive en Afganistán. Un hombre vino a su pueblo y construyó una escuela. Saida le dijo al hombre: "Ya no tengo hermanos. ¡Quiero ir a la escuela!" Uno de los hermanos de Saida había muerto por las luchas en su país. Su familia estaba muy triste. Saida, de doce años, sentía que ir a la escuela la ayudaría en el futuro.
Paragraphs 4 to 10:
For the complete story with questions: click here for printable

Extended Activities:

1. Imagina que Saida va a venir a cenar a tu casa. Escribe un menú con tus comidas favoritas que le servirías a ella.

2. Imagina que fueras rico y decidieras construir un nuevo patio de juegos para la escuela de Saida. Dibuja un mapa y etiqueta los tipos de juegos que pondrías en su nuevo patio de juegos.

3. Escribe una historia sobre lo que Saida decidió estudiar. ¿Qué crees que será Saida cuando crezca? ¿Se quedará en Afganistán o se irá a otro lado?


---
Weekly Reading Books
---
More Activities, Lesson Plans, and Worksheets




Copyright © 2011 edHelper