'); } var S; S=topJS(); SLoad(S); //-->
---
Print ¿Qué es el cuaquerismo?

Quickly Print - PDF format

Quickly Print - HTML format
Your Help is Needed! Help Improve This Story and the Spanish text. Leave your corrections and comments about the Spanish text in this story.


Other Languages
English: What Is Quakerism?

---
¿Qué es el cuaquerismo?
By Colleen Messina
Translation by Traductor TT
---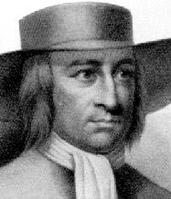 1
Leyenda: George Fox
2
La amistad es parte de toda religión importante, pero hay una fe que usa el término más que otras. A los cuáqueros también se los llama la Sociedad Religiosa de los Amigos. Se los conoce por sus creencias pacíficas y su forma de vida simple. También creen que tranquilizarse ayuda a una persona a hallar a Dios. ¡Eso podría ayudarnos a todos en nuestra sociedad de ritmo acelerado!
3
Los cuáqueros comenzaron en Inglaterra en el siglo XVII. Los cuáqueros originales no estaban contentos con los grupos cristianos existentes. Se suele atribuir a un hombre llamado George Fox el comienzo de la fe cuáquera. Dejó su casa a los 19 años y empezó una búsqueda de cuatro años para encontrar a Dios. Cuando tenía 23, oyó una voz que dijo: "existe uno, igual a Cristo Jesús, que puede hablar de tu situación". Sintió que Dios quería que predicara a otros sobre esa voz interna.
Paragraphs 4 to 8:
For the complete story with questions: click here for printable
---
Weekly Reading Books
---
More Activities, Lesson Plans, and Worksheets




Copyright © 2011 edHelper