'); } var S; S=topJS(); SLoad(S); //-->
---
Print ¡Una buena pandilla!

Quickly Print - PDF format

Quickly Print - HTML format
Your Help is Needed! Help Improve This Story and the Spanish text. Leave your corrections and comments about the Spanish text in this story.


Other Languages
English: A Good Gang!

---
¡Una buena pandilla!
By Colleen Messina
Translation by Traductor TT
---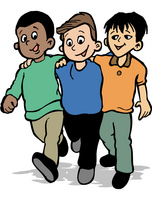 1
Ron iba caminando lentamente a su casa de regreso de la escuela. Su amigo Ben caminaba con él. Era un cálido día de primavera. ¡Perfecto para jugar al fútbol en el parque!
2
"Juntemos a la pandilla para jugar al fútbol esta tarde", dijo Ron.
3
Ben caminaba con lentitud y pateó una piedra.
4
"No me gusta esa palabra", dijo Ben de repente. Parecía enojado.
5
"¿Fútbol?" dijo Ron, preguntándose qué le pasaría a su amigo.
Paragraphs 6 to 14:
For the complete story with questions: click here for printable

Extended Activities:

1. Imagina que eres el reportero de un periódico que está investigando para un artículo sobre pandillas en tu área. Entrevista a tus padres o a un maestro sobre si existen pandillas en tu ciudad. Pregúntales qué opinan sobre las pandillas y anota lo que digan. Si no hay pandillas en tu ciudad, pregúntales a los adultos cómo se sienten sobre el tema y anota sus respuestas.

2. Los deportes pueden ayudar a los niños a mantenerse alejados de las pandillas. Diseña un cartel sobre tu deporte favorito que haga que los niños quieran jugarlo. ¡Asegúrate de incluir en tu cartel el nombre del equipo y una fotografía del uniforme!


---
Weekly Reading Books
---
More Activities, Lesson Plans, and Worksheets




Copyright © 2011 edHelper