'); } var S; S=topJS(); SLoad(S); //-->
---

Sample Ruhe, bitte! Worksheet
Reading Comprehension Worksheets

edHelper.com subscribers: print Ruhe, bitte!

Your Help is Needed! Help Improve This Story and the German text. Leave your corrections and comments about the German text is this story.


Other Languages
English: Quiet, Please!
French: Silence S'il Vous Plait!
Spanish: ˇSilencio, Por Favor!
Italian: Silenzio, prego!

---
Ruhe, bitte!
By Jody Williams
Translation by Heidi Ahlers
---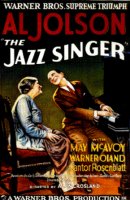 1

"Keine Unterhaltungen, während des Films."

2

Diese Mitteilung wird gezeigt, bevor ein Film beginnt. In den frühen zwanziger Jahren des 20.Jahrhunderts, unterhielten sich die Leute während des Films. Sie sprachen über den Film. Die Filme hatten keinen Ton. Es gab Schrifteinblendungen. Schrifteinblendungen sind Wörter auf der Leinwand. Sie geben wieder, was die Schauspieler sagen.

3

Filme ohne Ton wurden Stummfilme genannt. 1926 wurde Ton hinzugefügt. Es wurde Musik gespielt. Toneffekte wurden verwendet. Der Ton wurde auf eine Platte aufgenommen. Sie wurde aus Wachs hergestellt. Sie wurde während des Films abgespielt.

Paragraphs 4 to 6:
For the complete story with questions: click here for printable


Copyright © 2009 edHelper