'); } var S; S=topJS(); SLoad(S); //-->
---
Art Mystery, Part 5 - A Letter and an Answer
Reading Level

| | | |
| --- | --- | --- |
| | edHelper's suggested reading level: | grades 4 to 6 |
| | Flesch-Kincaid grade level: | 5.26 |

Vocabulary

| | | | |
| --- | --- | --- | --- |
| | challenging words: | | helping, restoration, tidbit, tremendous, realistic, historian, appetizing, appreciation, affected, university, world-famous, entire, leading, brushstrokes, script, artists |
| | content words: | | New York, Aunt Rune, Pop Art, Claude Monet |
---
Print Art Mystery, Part 5 - A Letter and an Answer

Quickly Print


---
Art Mystery, Part 5 - A Letter and an Answer
By Colleen Messina
---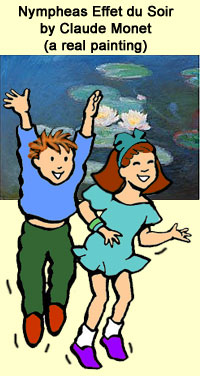 1 Aunt Rayna, Shelly, and Brian had spent the entire day in an art museum in New York City. They had looked at all kinds of paintings to try to figure out what style of painting their great-aunt Rayna had found in her attic. They had looked at realistic portraits, abstract art squiggles, pop art soup cans, and thousands of dots in a pointillism painting. They had learned a lot, but they still had not solved their mystery.

2 Now the day was over, and they still had not identified the style of the painting. Then, everything changed when the art restoration expert, Gustav, galloped into the pop art gallery with a yellowed envelope in his hand.

3 "Ms. Brush, look," he said.

4 Aunt Rayna, Shelly, Brian, and Ms. Brush, the art historian, rushed over to Gustav.

5 "I was removing the painting gently, oh, so gently, from its frame to finish cleaning it. Then, this envelope fell out from behind the canvas. Inside is an old letter. I cannot read French."

6 "Oh, this is just tremendous. Let's go to my office and read the letter," said Ms. Brush.

7 Shelly and Brian were as excited as if their parents had finally agreed to get them a puppy. They felt all tingly, as though they were sick, but they weren't. Shelly twirled her brown hair around her finger, and Brian chewed on a hangnail as they walked to Ms. Brush's office. The once-short walk now seemed like it went on for miles and miles and miles.

8 Once inside, Ms. Brush shut the door. They all sat down. Gustav gave the letter to Aunt Rayna, who opened it with trembling fingers. The yellow paper seemed fragile. The scrawling script looked as though it had been written long ago. Aunt Rayna gave Ms. Brush the note, and she translated it.


Paragraphs 9 to 19:
For the complete story with questions: click here for printable




---

Weekly Reading Books






---

Feedback on Art Mystery, Part 5 - A Letter and an Answer



---

More Lessons



Copyright © 2018 edHelper