'); } var S; S=topJS(); SLoad(S); //-->
---
Turkey - Geography (Grades 2-4)


Print Turkey - Geography (Grades 2-4) Reading Comprehension with Second Grade Work

Print Turkey - Geography (Grades 2-4) Reading Comprehension with Third Grade Work

Print Turkey - Geography (Grades 2-4) Reading Comprehension with Fourth Grade Work

Print Turkey - Geography (Grades 2-4) Reading Comprehension



Reading Level

| | | |
| --- | --- | --- |
| | edHelper's suggested reading level: | grades 2 to 4 |
| | Flesch-Kincaid grade level: | 4.39 |

Vocabulary

| | | | |
| --- | --- | --- | --- |
| | challenging words: | | country, underground, bridges, interesting, scary, history, west, capital, north, during, earth, south, city, land, another, move |
| | content words: | | Middle East, Black Sea, Mediterranean Sea, Many Turks, In Turkey |
---
Turkey - Geography
By Ekaterina Zhdanova-Redman
---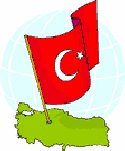 1
Turkey is a country in the Middle East. It is a big country right between the European and Asian continents. The capital of Turkey is a big city called Ankara. Turkey is a very interesting country. It has lots of history and lots of very interesting land.
2
Turkey is surrounded on three sides by water. To the north is the Black Sea. To the south and west is the Mediterranean Sea. If you look at a map of Turkey, it looks like there's lots of water inside Turkey, too. Rivers and lakes can be found on any map of Turkey. But many times, Turkey's lakes and rivers disappear. That's because the weather changes very much in Turkey. The weather can cause Turkey's rivers and lakes to completely dry up!
3
The land is very important to today's Turks. Many Turks are farmers. Some raise plants. Others raise animals, like goats. For many thousands of years, Turkey's goats have been used to make rugs. How do they do that? The goats' hair is cut off, dyed into different colors, and tied together in pretty patterns to make rugs. Turkey is very famous for its rugs.
Paragraphs 4 to 7:
For the complete story with questions: click here for printable
---
Weekly Reading Books
---
Feedback on Turkey - Geography (Grades 2-4)



Copyright © 2018 edHelper