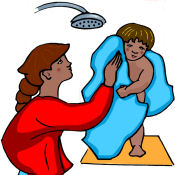 clean
| | |
| --- | --- |
| | To remove dirt or stains from something. This is probably something that your Mom does not enjoy doing. |
Amy has to clean her room before she can play.
Brandi is fully capable of cleaning her room, but chooses not to clean it.
I put my clean clothes in my dresser drawer.
We have to clean our house every Saturday morning.
We keep our classroom very neat and clean.
Rhymes:
seen, screen, obscene, sheen, glean, cuisine, latrine, lien, between, bean