'); } var S; S=topJS(); SLoad(S); //-->
---
Snow Cream


Print Snow Cream Reading Comprehension with First Grade Work

Print Snow Cream Reading Comprehension with Second Grade Work

Print Snow Cream Reading Comprehension



Reading Level

| | | |
| --- | --- | --- |
| | edHelper's suggested reading level: | grades 1 to 2 |
| | Flesch-Kincaid grade level: | 1.37 |

Vocabulary

| | | | |
| --- | --- | --- | --- |
| | challenging words: | | name, arms, great-grandma, land, layer, vanilla, snow, live, bowl, coat, cream, decide, dirty, favorite, fill, fresh |

Other Languages
Spanish: CREMA DE NIEVE


---
Snow Cream
By Brenda B. Covert
---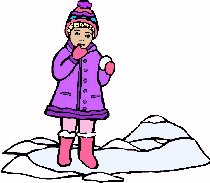 1
My name is Tasha. I live in the land of snow. We have more winter here than any other season!
2
I like to skate on the ice and throw snowballs at my friends. I like to make snowmen. I like to lie in the snow and move my arms and legs. When I stand up and turn around, I see an angel in the snow! The snow is wet and cold, but if I run and scream and laugh a lot, I stay warm. My mother makes me wear a coat, hat, mittens, and boots in the snow.
3
My favorite thing to do with snow is to eat it! I do not go outside and scoop it up with my hands. No! That is not the way to eat snow! My great-grandma takes snow and turns it into snow cream. It is a sweet treat! Great-grandma made snow cream for my mother when she was a little girl. Now she makes snow cream for me!
Paragraphs 4 to 7:
For the complete story with questions: click here for printable
---
Weekly Reading Books
---
Feedback on Snow Cream


---
Winter Theme Unit


---
More Lessons



Copyright © 2018 edHelper