'); } var S; S=topJS(); SLoad(S); //-->
---
Omega Owl and the Scary Night


Print Omega Owl and the Scary Night Reading Comprehension with Second Grade Work

Print Omega Owl and the Scary Night Reading Comprehension with Third Grade Work

Print Omega Owl and the Scary Night Reading Comprehension



Reading Level

| | | |
| --- | --- | --- |
| | edHelper's suggested reading level: | grades 2 to 3 |
| | Flesch-Kincaid grade level: | 1.75 |

Vocabulary

| | | | |
| --- | --- | --- | --- |
| | challenging words: | | valley, rustle, shivered, stutter, werewolf, whoo, cricket, bats, thud, pinecone, chill, nowhere, scary, brushed, pecan, darkness |
| | content words: | | Smoky Mountains, Omega Owl, How Omega |

Other Languages
Spanish: Omega la lechuza y la noche de miedo


---
Omega Owl and the Scary Night
By Brenda B. Covert
---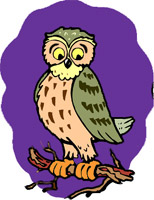 1
In the darkest valley in the Smoky Mountains, there was a tree. It was a tall tree full of shadows. The tree was the home of Omega Owl.
2
Omega was a lonely owl. Her parents had vanished. They were nowhere to be found. Omega sat in her tree and waited for them to return. The shadows grew bigger. Omega got smaller.
3
Night crept into the valley. It was big. It was dark. It was as black as a bat cave. Omega's eyes were wide with fear.
4
Sounds popped out of the valley. There were cricket chirps. Leaves rustled in a soft breeze. Sometimes there was a crack as a dry branch snapped off a tree. Some trees seemed to sigh in the darkness. There were small, scurrying sounds on the ground. Omega's head turned all around as she stood guard on her own tree limb.
Paragraphs 5 to 12:
For the complete story with questions: click here for printable
---
Weekly Reading Books
---
Feedback on Omega Owl and the Scary Night


---
Halloween


---
More Lessons



Copyright © 2018 edHelper