'); } var S; S=topJS(); SLoad(S); //-->
---
July the 4th


Print July the 4th Reading Comprehension with Second Grade Work

Print July the 4th Reading Comprehension with Third Grade Work

Print July the 4th Reading Comprehension



Reading Level

| | | |
| --- | --- | --- |
| | edHelper's suggested reading level: | grades 2 to 3 |
| | Flesch-Kincaid grade level: | 1.46 |

Vocabulary

| | | | |
| --- | --- | --- | --- |
| | challenging words: | | greedy, lived, people, rule, died, birthday, money, state, unhappy, land, freedom, free, wise, fair, like, place |

Other Languages
Spanish: El 4 de julio


---
July the 4th
By Mary L. Bushong
---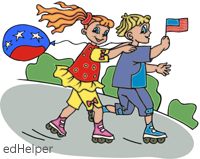 1
Do you like birthday parties? People have birthdays. Some countries have birthdays too!
2
America has a birthday on July 4. She is more than 200 years old.
3
Around 400 years ago, people heard about a new land. Some people were unhappy with their king. They wanted to worship God in their own way. The king said no. He did not let them worship God as they liked. They wanted to go to a new land. They wanted to be free.
4
The king did not mind letting them go. He would rule the new land too. It could make him richer.
5
People already lived in the new land. Some of them were glad to see new people coming to their land. Others were not.
Paragraphs 6 to 12:
For the complete story with questions: click here for printable
---
Weekly Reading Books
---
Feedback on July the 4th


---
U.S. Independence Day


---
More Lessons



Copyright © 2018 edHelper