'); } var S; S=topJS(); SLoad(S); //-->
---
Run, Jump, and Throw


Print Run, Jump, and Throw Reading Comprehension with Second Grade Work

Print Run, Jump, and Throw Reading Comprehension with Third Grade Work

Print Run, Jump, and Throw Reading Comprehension



Reading Level

| | | |
| --- | --- | --- |
| | edHelper's suggested reading level: | grades 2 to 3 |
| | Flesch-Kincaid grade level: | 2.09 |

Vocabulary

| | | | |
| --- | --- | --- | --- |
| | challenging words: | | discus, javelin, jumper, lastly, mallet, takeoff, grip, races, seconds, minutes, jumpers, travels, balls, longest, hammer, spear |
| | content words: | | Summer Games |
---
Run, Jump, and Throw
By Brenda B. Covert
---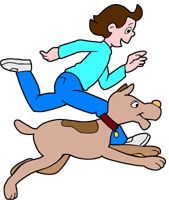 1
Alex likes to run. He runs to dinner. He runs to play. He runs away from girls. He runs down the hall. He runs after his dog, Spike.
2
Jade loves to jump. She jumps over puddles. She jumps down stairs. She jumps rope. She jumps over the cracks and never breaks her mother's back.
3
Luis likes to throw things. He can throw balls. He can throw Frisbees. He can throw sticks. Sometimes he will throw a fit, but that's not the same thing.
4
When Alex, Jade, and Luis grow up, they may be on an Olympic team! Did you know that running, jumping, and throwing contests are a part of the Summer Games? We call them track and field events.
Paragraphs 5 to 13:
For the complete story with questions: click here for printable
---
Weekly Reading Books
---
Feedback on Run, Jump, and Throw


---
More Lessons



Copyright © 2018 edHelper