'); } var S; S=topJS(); SLoad(S); //-->
---
I Want to Be a Zoo Worker


Print I Want to Be a Zoo Worker Reading Comprehension with Second Grade Work

Print I Want to Be a Zoo Worker Reading Comprehension with Third Grade Work

Print I Want to Be a Zoo Worker Reading Comprehension



Reading Level

| | | |
| --- | --- | --- |
| | edHelper's suggested reading level: | grades 2 to 3 |
| | Flesch-Kincaid grade level: | 4.93 |

Vocabulary

| | | | |
| --- | --- | --- | --- |
| | challenging words: | | volunteer, possibly, meals, kids, jobs, natural, working, bears, math, college, what, study, early, teach, visit, prepare |

Other Languages
Spanish: Quiero ser un trabajador del zoológico


---
I Want to Be a Zoo Worker
By Marilyn Gatley
---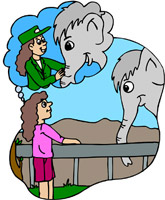 1
What do you want to be when you grow up? Have you ever wondered what it would be like to work in a zoo? Zoos are fun to visit, so working at a zoo might be a fun job. It is a very popular job choice.
2
There are many different jobs for zoo workers. One job is to know what each animal eats and how to prepare its meals. All animals need food and water. Lions and bears do not eat the same kind of food; neither do giraffes or monkeys. A diet expert knows what kind of food is best for each animal.
3
Zoo animals need a special place to live. Their zoo home needs to be like their natural habitat in many ways. If an animal's habitat is too wet or too dry, or too hot or too cold, the animal may get sick and possibly die. Zoo scientists visit countries all over the world to study animals in their natural habitat. This helps them know what type of home a zoo animal needs.
Paragraphs 4 to 6:
For the complete story with questions: click here for printable
---
Weekly Reading Books
---
Feedback on I Want to Be a Zoo Worker


---
Community Helpers


---
More Lessons



Copyright © 2018 edHelper