'); } var S; S=topJS(); SLoad(S); //-->
---
Grooming Leo


Print Grooming Leo Reading Comprehension with Second Grade Work

Print Grooming Leo Reading Comprehension with Third Grade Work

Print Grooming Leo Reading Comprehension



Reading Level

| | | |
| --- | --- | --- |
| | edHelper's suggested reading level: | grades 2 to 3 |
| | Flesch-Kincaid grade level: | 1.95 |

Vocabulary

| | | | |
| --- | --- | --- | --- |
| | challenging words: | | family, blow-dried, groomers, long-haired, massage, matted, tangle-free, bows, mats, belly, shampoo, brushed, cats, fluffy, short-haired, ears |

Other Languages
Spanish: ¡Limpiemos a Leo!


---
Grooming Leo
By Brenda B. Covert
---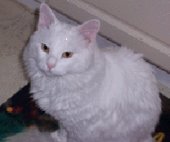 1
My family has a white, long-haired cat named Leo. We think Leo is a prince. He lives in the house with us! He grooms himself with his tongue. Sometimes he needs help with his grooming. We have a brush for his fur. It helps remove loose hair and keep his coat tangle-free.
2
One time, Leo started to smell like a litter box. Pew! His fur became matted in a few places. He was unhappy. Cats would rather be clean. We decided to take Leo to see a pet groomer.
Paragraphs 3 to 4:
For the complete story with questions: click here for printable
---
Weekly Reading Books
---
Feedback on Grooming Leo


---
Pets Theme Unit


---
More Lessons



Copyright © 2018 edHelper