'); } var S; S=topJS(); SLoad(S); //-->
---
Pete's Pirate Party
Reading Level

| | | |
| --- | --- | --- |
| | edHelper's suggested reading level: | grades 1 to 2 |
| | Flesch-Kincaid grade level: | 5.01 |

Vocabulary

| | | | |
| --- | --- | --- | --- |
| | challenging words: | | dare, Aaarr, Aaarrr, booty, chocolate-filled, costume, crossbones, hula-hoops, kinds, lights, pajamas, patio, perch, picked, pizza, plank |
| | content words: | | Birthday Bash, Pool Party, Musical Islands, Pirate Peter |
---
Print Pete's Pirate Party

Quickly Print

Proofreading Activity

Other Languages
Spanish: La fiesta de piratas de Pete


---
Pete's Pirate Party
By Joyce Furstenau
---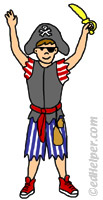 1
"Aaarrr!  Come if ye dare to Pirate Pete's 6th Birthday Bash," read the invitation. Peter was having a birthday party. His parents had a swimming pool, so Peter invited all his friends to "Pirate Pete's Pool Party." Peter was the guest of honor because he was turning six. Everyone brought a present for Peter.
2
Peter dressed up for his party. He wore a pirate costume. Peter put on an eye patch. He had a pirate hat on his head and a pirate sword at his side. He had a plastic parrot on his shoulder. Peter practiced saying, "Aaarr!" too.
3
Peter's yard was decorated with a pirate ship made from a cardboard box. Pirate pennants decorated with skull and crossbones were hanging from lights across the patio. A weathered pirate map was lying across the picnic table. Pirate themed plates and napkins sat beside a big pirate cake.
Paragraphs 4 to 9:
For the complete story with questions: click here for printable
---
Weekly Reading Books
---
Feedback on Pete's Pirate Party


---
More Lessons



Copyright © 2017 edHelper