'); } var S; S=topJS(); SLoad(S); //-->
---
Birds in the House


Print Birds in the House Reading Comprehension with Second Grade Work

Print Birds in the House Reading Comprehension with Third Grade Work

Print Birds in the House Reading Comprehension



Reading Level

| | | |
| --- | --- | --- |
| | edHelper's suggested reading level: | grades 2 to 3 |
| | Flesch-Kincaid grade level: | 1.15 |

Vocabulary

| | | | |
| --- | --- | --- | --- |
| | challenging words: | | Arrrgh, birdcage, cuttlebone, lifespan, gasp, playful, longer, normally, perch, mother, watch, excited, flock, cats, price, sideways |
| | content words: | | Did Mom |

Other Languages
Spanish: Pájaros en casa


---
Birds in the House
By Brenda B. Covert
---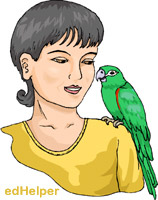 1
My mother loves birds. She loves to watch them. She loves to feed them. She wants to own some as pets!
2
I think it will be fun to have birds in the house. Mom says there is room for a birdcage in the dining room. When we eat, will we close our eyes and imagine that we are outside? Will the birds sing to us? Will they peck at me and pull my hair? (I hope they don't do that! I will be scared if they hurt me.)
3
We are at a pet shop. There are many birds to choose from. I see large ones and small ones! I see bright yellow parakeets and plain gray finches with orange beaks. What will we choose?
Paragraphs 4 to 10:
For the complete story with questions: click here for printable
---
Weekly Reading Books
---
Feedback on Birds in the House


---
Pets Theme Unit


---
More Lessons



Copyright © 2018 edHelper