'); } var S; S=topJS(); SLoad(S); //-->
---
Fawn Sees Spring


Print Fawn Sees Spring Reading Comprehension with First Grade Work

Print Fawn Sees Spring Reading Comprehension



Reading Level

| | | |
| --- | --- | --- |
| | edHelper's suggested reading level: | grade 1 |
| | Flesch-Kincaid grade level: | 0.42 |

Vocabulary

| | | | |
| --- | --- | --- | --- |
| | challenging words: | | days, counted, flying, frosty, heels, hopped, nights, resting, were, across, along, aloud, back, bark, bird, blew |

Other Languages
Spanish: Cervatilla ve la primavera


---
Fawn Sees Spring
By Brenda B. Covert
---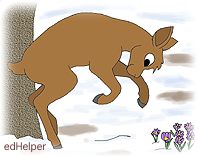 1
The days were cold. The nights were frosty. Fawn had to eat moss, twigs, and bark. She would rather eat grass, but she had not seen green grass since fall began.
2
"Spring became summer, and summer became fall. Then fall became winter. The forest looks gray. The days and nights are always cold now. When will spring return? Will my home ever be green again?" Fawn said.
3
One day Fawn was resting under a tree when she heard honking. She looked up. There in the blue sky she saw geese flying by. "Oh! I have not seen geese since last fall!" she said. "They flew away just before it got cold."
Paragraphs 4 to 10:
For the complete story with questions: click here for printable
---
Weekly Reading Books
---
Feedback on Fawn Sees Spring


---
Spring


---
More Lessons



Copyright © 2018 edHelper