'); } var S; S=topJS(); SLoad(S); //-->
---
Remembering Grandpa Dave
Reading Level

| | | |
| --- | --- | --- |
| | edHelper's suggested reading level: | grades 2 to 3 |
| | Flesch-Kincaid grade level: | 2.94 |

Vocabulary

| | | | |
| --- | --- | --- | --- |
| | challenging words: | | blessed, half-mast, memorial, racer, racing, wavy, workshop, driveway, fireman, grandpa, lived, special, kids, auto, camping, outdoors |
| | content words: | | Richard Petty, Abe Lincoln, Grandpa Dave, David Richard LeMay |
---
Print Remembering Grandpa Dave

Quickly Print

Proofreading Activity

Other Languages
Spanish: Recordando al Abuelito Dave


---
Remembering Grandpa Dave
By Beth Beutler
---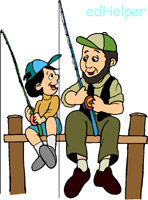 1
I was blessed with a special grandpa. He was one of my best friends. For a while, we lived on the same property. I could walk a short distance from my house to Grandpa's house, and there he was. He loved to spend time with me, his favorite, and only, grandson.
2
He liked to sit outside. He also had a workshop in a shed. He was so neat. He kept all his tools in order. He had screws and nails in labeled bins. For quite a while he collected baseball caps. He kept them neatly arranged. He wore a different one every day. I think his favorites were anything to do with being a grandparent.
3
Grandpa had a fire pit and liked to build campfires. In fact, when he was younger, he had been a fireman. My mom remembers hearing him run down the stairs in his boots when he went on a fire call. When he got a little older, he worked at the local fire station. I got to help him. He cleaned the trucks and just liked to be there.
Paragraphs 4 to 10:
For the complete story with questions: click here for printable
---
Weekly Reading Books
---
Feedback on Remembering Grandpa Dave


---
Grandparents Day


---
More Lessons



Copyright © 2018 edHelper