'); } var S; S=topJS(); SLoad(S); //-->
---
Football and Skiing?


Print Football and Skiing? Reading Comprehension with Second Grade Work

Print Football and Skiing? Reading Comprehension with Third Grade Work

Print Football and Skiing? Reading Comprehension



Reading Level

| | | |
| --- | --- | --- |
| | edHelper's suggested reading level: | grades 2 to 3 |
| | Flesch-Kincaid grade level: | 3.38 |

Vocabulary

| | | | |
| --- | --- | --- | --- |
| | challenging words: | | ninth, ranked, skier, races, works, football, college, born, late, also, often, number, year, family, player, people |
| | content words: | | Jeremy Bloom, Rocky Mountains, Denver Broncos, Salt Lake City, World Cup, Philadelphia Eagles, Pittsburg Steelers, Olympic Games, Now Jeremy |
---
Football and Skiing?
By Jody Williams
---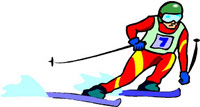 1
Can you play football and be an Olympic skier? Jeremy Bloom did both. Jeremy was born in Colorado. His mom taught people to ski. His whole family loved to ski. They often took family ski trips in the Rocky Mountains.
2
Jeremy loved to ski. He loved football too. He used to watch the Denver Broncos when he was little. He wanted to be a football player more than anything. Jeremy went to college in Colorado. He played football. He also kept skiing. In fact, he went to the 2002 Olympics. They were in Salt Lake City, Utah. He placed ninth in his event. For a while, Jeremy tried to do it all. He played college football. He skied. In 2005, he won six World Cup races in a row. That's the most anyone has won in a row. He was ranked as the number one skier in the world!
Paragraphs 3 to 4:
For the complete story with questions: click here for printable
---
Weekly Reading Books
---
Feedback on Football and Skiing?


---
More Lessons



Copyright © 2018 edHelper