'); } var S; S=topJS(); SLoad(S); //-->
---
Soap and Popsicle Stick Art


Print Soap and Popsicle Stick Art Reading Comprehension with Second Grade Work

Print Soap and Popsicle Stick Art Reading Comprehension with Third Grade Work

Print Soap and Popsicle Stick Art Reading Comprehension with Fourth Grade Work

Print Soap and Popsicle Stick Art Reading Comprehension



Reading Level

| | | |
| --- | --- | --- |
| | edHelper's suggested reading level: | grades 2 to 4 |
| | Flesch-Kincaid grade level: | 3.23 |

Vocabulary

| | | | |
| --- | --- | --- | --- |
| | challenging words: | | artists, goddess, mystery, sculpture, holding, rocks, soap, artist, what, marble, yummy, common, sticks, during, form, wheel |
| | content words: | | Stone Age, Easter Island, South Pacific |
---
Soap and Popsicle Stick Art
By Colleen Messina
---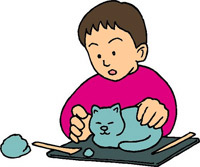 1
What do soap and Popsicles sticks have in common? Here is a hint: it has nothing to do with eating, but you may do it in art class.
2
Popsicle sticks and soap can be made into sculptures.
3
Sculpture is just 3D art. It has been around for a long time. People have made sculptures for thousands of years. During the Stone Age, sculpture was made out of rocks. Some artists made small figures of animals. Others made big statues. Easter Island is in the South Pacific. It has statues that are over thirty feet tall. No one knows how they were made. No one knows why they were made. They look like big faces. They are a mystery.
Paragraphs 4 to 7:
For the complete story with questions: click here for printable
---
Weekly Reading Books
---
Feedback on Soap and Popsicle Stick Art


---
More Lessons



Copyright © 2017 edHelper