'); } var S; S=topJS(); SLoad(S); //-->
---
What Is a Mosaic?


Print What Is a Mosaic? Reading Comprehension with Fourth Grade Work

Print What Is a Mosaic? Reading Comprehension with Fifth Grade Work

Print What Is a Mosaic? Reading Comprehension with Sixth Grade Work

Print What Is a Mosaic? Reading Comprehension



Reading Level

| | | |
| --- | --- | --- |
| | edHelper's suggested reading level: | grades 4 to 6 |
| | Flesch-Kincaid grade level: | 6.86 |

Vocabulary

| | | | |
| --- | --- | --- | --- |
| | challenging words: | | auditor, checkerboard, crockery, different-colored, guilloche, restorers, smalti, terracotta, tesserae, vaulted, supervise, legacy, intricate, random, geometric, viewpoint |
| | content words: | | Creative Greek, Wealthy Greeks, Many Roman, Byzantine Empire, Theodore Metochites, Raymonde Isidore |

Other Languages
Spanish: ¿Qué es un Mosaico?


---
What Is a Mosaic?
By Colleen Messina
---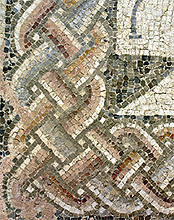 1 Stepping on a piece of artwork seems like a strange idea, but if you lived in ancient Greece, you would be walking all over a style of art called a mosaic. Intricate mosaics covered the floors in many ancient civilizations.

2 Mosaics are pictures or designs made by placing bits of glass, stone, or wood into a bed of cement or plaster. Artists have created mosaics for over 4,000 years. Often, mosaics are used on floors or on panels. They can also be on ceilings. They can be found inside and outside. Mosaics can be anywhere! Mosaics can be both practical and spectacular.

3 Mosaics were first made in about the 8th century B.C. for pavements. Different colored stones made patterns. At first, people made random designs. Later, they made ordered patterns. Creative Greek artists made it into an art form. Wealthy Greeks arranged black and white pebbles into patterns on their floors. The designs were often simple, like a checkerboard or a black border around the edge of the room. Artists had to work fast to do their geometric patterns. When the cement dried, the floor looked elegant. The Greeks used mosaics to make detailed scenes of people and animals.

4 By 200 B.C., the Greeks used pebbles called tesserae for their mosaics. These tesserae were sometimes only a few millimeters in diameter. The artists then used these tiny pieces to make detailed mosaics that almost looked like paintings. For walls, the artists used bits of glass to reflect light. For floors, they made tesserae out of marble or other stone. Sometimes, they used bits of terracotta or brick. It sometimes took thousands of these tiny bits of pottery to create a picture.

Paragraphs 5 to 11:
For the complete story with questions: click here for printable


---
Weekly Reading Books
---
Feedback on What Is a Mosaic?


---
More Lessons



Copyright © 2018 edHelper