'); } var S; S=topJS(); SLoad(S); //-->
---
The Curlicue Architecture of Art Nouveau


Print The Curlicue Architecture of Art Nouveau Reading Comprehension with Second Grade Work

Print The Curlicue Architecture of Art Nouveau Reading Comprehension with Third Grade Work

Print The Curlicue Architecture of Art Nouveau Reading Comprehension with Fourth Grade Work

Print The Curlicue Architecture of Art Nouveau Reading Comprehension



Reading Level

| | | |
| --- | --- | --- |
| | edHelper's suggested reading level: | grades 2 to 4 |
| | Flesch-Kincaid grade level: | 4.79 |

Vocabulary

| | | | |
| --- | --- | --- | --- |
| | challenging words: | | fancy, curlicue, unforgettable, wrinkled, century, piles, word, lived, style, waves, saint, church, become, building, ocean, belong |
| | content words: | | Antoni Gaudi, Another Art Nouveau |
---
The Curlicue Architecture of Art Nouveau
By Colleen Messina
---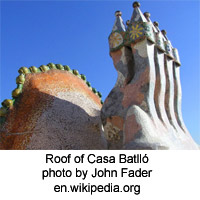 1
Art Nouveau is a fancy word. It was a 19th century art style. It was also a fancy style of buildings. You could call it curlicue architecture because it was full of curves and swirls. It was amazing and unforgettable.
2
Art Nouveau buildings were full of surprises. They seemed to imitate nature. They had many curves. Their shapes imitated ocean waves or flowery shapes. You could almost never find a straight line anywhere. They look liked they were from a fairy tale.
3
A man named Antoni Gaudi created buildings in this style. He lived in Barcelona, Spain. He was also a devoted Catholic. People wanted to make him a saint, but that never happened because he didn't do any miracles. People thought his buildings were miracles, though. He thought his work would help people become closer to God and nature.
Paragraphs 4 to 6:
For the complete story with questions: click here for printable
---
Weekly Reading Books
---
Feedback on The Curlicue Architecture of Art Nouveau


---
More Lessons



Copyright © 2018 edHelper