'); } var S; S=topJS(); SLoad(S); //-->
---
Gothic Gargoyles and Churches


Print Gothic Gargoyles and Churches Reading Comprehension with Second Grade Work

Print Gothic Gargoyles and Churches Reading Comprehension with Third Grade Work

Print Gothic Gargoyles and Churches Reading Comprehension with Fourth Grade Work

Print Gothic Gargoyles and Churches Reading Comprehension



Reading Level

| | | |
| --- | --- | --- |
| | edHelper's suggested reading level: | grades 2 to 4 |
| | Flesch-Kincaid grade level: | 4.76 |

Vocabulary

| | | | |
| --- | --- | --- | --- |
| | challenging words: | | buttress, gargoyle, medieval, stonework, tracery, lasted, purpose, scary, church, grand, flying, picking, goal, building, heaven, visit |
---
Gothic Gargoyles and Churches
By Colleen Messina
---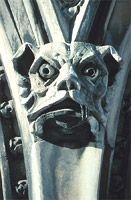 1
Gargoyles are funny statues that sit on top of Gothic churches. They look like monsters, but they had one practical purpose. They were rain spouts, but they were a strange part of Gothic architecture.
2
Gargoyles looked scary and ugly. Besides being rain spouts, some people believe that they were used to protect the church from evil. Others think that they were there to make the rest of the church seem more beautiful. Some had big noses. One of them was picking his nose! Others had big glasses. They were an eerie part of this elegant style of building.
3
Gothic architects had a big goal. They wanted their churches to reach heaven. To do this, they made their cathedrals tall. They added enormous stained glass windows. This style of architecture started in France in the 12th century. It lasted for over 400 years.
Paragraphs 4 to 5:
For the complete story with questions: click here for printable
---
Weekly Reading Books
---
Feedback on Gothic Gargoyles and Churches


---
More Lessons



Copyright © 2018 edHelper