'); } var S; S=topJS(); SLoad(S); //-->
---
The Astounding Apples of the Post Impressionists


Print The Astounding Apples of the Post Impressionists Reading Comprehension with Second Grade Work

Print The Astounding Apples of the Post Impressionists Reading Comprehension with Third Grade Work

Print The Astounding Apples of the Post Impressionists Reading Comprehension with Fourth Grade Work

Print The Astounding Apples of the Post Impressionists Reading Comprehension



Reading Level

| | | |
| --- | --- | --- |
| | edHelper's suggested reading level: | grades 2 to 4 |
| | Flesch-Kincaid grade level: | 3.84 |

Vocabulary

| | | | |
| --- | --- | --- | --- |
| | challenging words: | | exotic, starry, tilt, artists, liked, painting, shimmer, artist, powerful, also, wild, another, different, deep, desert, part |
| | content words: | | Paul Cezanne, Post Impressionist, Post Impressionists, Paul Gauguin, Henri Rousseau, Modern Art |
---
The Astounding Apples of the Post Impressionists
By Colleen Messina
---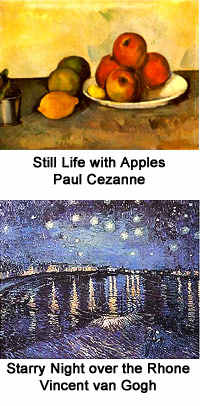 1
Paul Cezanne liked apples. He liked to eat them, and he liked to paint them. He thought that fruit liked to have its portrait painted. He thought that he could astound everyone in Paris with an apple...and he did.
2
Cezanne invented a new art style. And guess what he painted the first time he tried this style? An apple! He painted the apples. They had outlines. They were in a glass bowl. He made the table seem to tilt. The whole picture seemed to shimmer. It was the very first Post Impressionist painting.
3
Post Impressionists painted many different things. Paul Cezanne painted apples. Vincent van Gogh painted swirling, starry skies. His stars were golden. His night sky was deep blue. It was a powerful picture.
Paragraphs 4 to 5:
For the complete story with questions: click here for printable
---
Weekly Reading Books
---
Feedback on The Astounding Apples of the Post Impressionists


---
More Lessons



Copyright © 2018 edHelper