'); } var S; S=topJS(); SLoad(S); //-->
---
Peru - Geography


Print Peru - Geography Reading Comprehension with Second Grade Work

Print Peru - Geography Reading Comprehension with Third Grade Work

Print Peru - Geography Reading Comprehension with Fourth Grade Work

Print Peru - Geography Reading Comprehension



Reading Level

| | | |
| --- | --- | --- |
| | edHelper's suggested reading level: | grades 2 to 4 |
| | Flesch-Kincaid grade level: | 5.01 |

Vocabulary

| | | | |
| --- | --- | --- | --- |
| | challenging words: | | country, lies, longer, lived, west, rugged, longest, interesting, actually, jobs, scary, church, public, capital, especially, center |
| | content words: | | South America, Pacific Ocean, Andes Mountains, Machu Picchu, Since Machu Picchu, Incan Empire |
---
Peru - Geography
By Ekaterina Zhdanova-Redman
---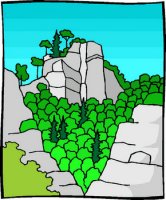 1
Peru is a country in South America. It lies on the west coast of Peru, along the Pacific Ocean. The capital of Peru is a big city named Lima. The land of Peru is very beautiful. But some places in Peru are very dangerous and even a little scary.
2
There are the Andes Mountains in Peru. These are some of the most beautiful mountains in the world. It is also the longest mountain chain in the world. The Andes stretch 7,000 km from end to end. Many of the Andes Mountains are taller than 4,000 m. They are very rugged mountains. The straight sides of many of these mountains can even look a little scary -- especially if you are afraid of heights!
3
High in the Andes Mountains is one of Peru's most famous cities. But this city hasn't been lived in for hundreds of years. Explorers found this ancient city in 1911. It is called Machu Picchu. It is a huge fortress made out of stone. It sits on top of very high places in the Andes Mountains.
Paragraphs 4 to 8:
For the complete story with questions: click here for printable
---
Weekly Reading Books
---
Feedback on Peru - Geography


---
More Lessons



Copyright © 2018 edHelper