'); } var S; S=topJS(); SLoad(S); //-->
---
Hungary - Geography


Print Hungary - Geography Reading Comprehension with Second Grade Work

Print Hungary - Geography Reading Comprehension with Third Grade Work

Print Hungary - Geography Reading Comprehension with Fourth Grade Work

Print Hungary - Geography Reading Comprehension



Reading Level

| | | |
| --- | --- | --- |
| | edHelper's suggested reading level: | grades 2 to 4 |
| | Flesch-Kincaid grade level: | 5.01 |

Vocabulary

| | | | |
| --- | --- | --- | --- |
| | challenging words: | | ice-skating, thermal, country, military, beautiful, leading, underneath, lived, underground, pools, interesting, connect, history, east, west, capital |
| | content words: | | Eastern Europe, Danube River, Castle Hill, Royal Palace, In Budapest, Lake Balaton |
---
Hungary - Geography
By Ekaterina Zhdanova-Redman
---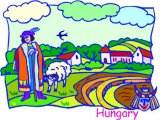 1
Hungary is a beautiful country in Eastern Europe. It's not a very big country, but there's a lot to see and do in Hungary. There are many old buildings there. There are many colorful houses. Budapest is Hungary's capital. It is famous for the number of pools and baths there.
2
Many countries surround Hungary. To the north are Slovakia and Ukraine, to the east is Romania. To the south are Serbia and Croatia, to the west is Austria and Slovenia. Because of its location, Hungary has had an interesting history. For hundreds of years, many people from east and west have fought over Hungary. Many different people have lived in that country. Each group of people brought something new to Hungary.
3
Budapest is in the north-central part of Hungary. The beautiful Danube River cuts the city in half. In fact, Budapest used to be two different cities. Many years ago, the city of Buda was on one side of the river and Pest was on the other. Then, in 1836, a Hungarian ruler built a bridge between Buda and Pest. Ever since, it's been one city of Budapest.
Paragraphs 4 to 8:
For the complete story with questions: click here for printable
---
Weekly Reading Books
---
Feedback on Hungary - Geography


---
More Lessons



Copyright © 2018 edHelper