'); } var S; S=topJS(); SLoad(S); //-->
---
Poland - Geography


Print Poland - Geography Reading Comprehension with Second Grade Work

Print Poland - Geography Reading Comprehension with Third Grade Work

Print Poland - Geography Reading Comprehension with Fourth Grade Work

Print Poland - Geography Reading Comprehension



Reading Level

| | | |
| --- | --- | --- |
| | edHelper's suggested reading level: | grades 2 to 4 |
| | Flesch-Kincaid grade level: | 3.6 |

Vocabulary

| | | | |
| --- | --- | --- | --- |
| | challenging words: | | twentieth, university, military, museum, place, beautiful, lived, works, history, capital, especially, death, during, building, center, geography |
| | content words: | | World War I., World War II, New Town, During World War II, Old Town, Royal Castle, Market Square, War II, These Nazis, So Nazis |
---
Poland - Geography
By Ekaterina Zhdanova-Redman
---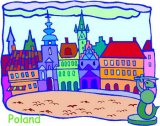 1
Poland is a beautiful place. It is beautiful because of its history. Poland's history has been very hard. Because of this, many of Poland's cities have been badly damaged or destroyed. But today, these cities are being rebuilt. Poland has many countries around it. Many of those countries have fought over Poland. Many of them ruled it.
2
During the twentieth century, Poland was in the middle of two terrible wars. The first was World War I. The second was World War II. During these wars, a lot of Poland was destroyed. Warsaw is Poland's capital. It was almost entirely destroyed during war, too.
3
There are many pretty places in Warsaw. One of these places is called New Town. New Town is not new, though. It is a part of Warsaw that was built about 600 years ago! There are many old houses and churches there.
Paragraphs 4 to 10:
For the complete story with questions: click here for printable
---
Weekly Reading Books
---
Feedback on Poland - Geography


---
More Lessons



Copyright © 2018 edHelper