'); } var S; S=topJS(); SLoad(S); //-->
---
Madagascar - Geography


Print Madagascar - Geography Reading Comprehension with Second Grade Work

Print Madagascar - Geography Reading Comprehension with Third Grade Work

Print Madagascar - Geography Reading Comprehension with Fourth Grade Work

Print Madagascar - Geography Reading Comprehension



Reading Level

| | | |
| --- | --- | --- |
| | edHelper's suggested reading level: | grades 2 to 4 |
| | Flesch-Kincaid grade level: | 4.36 |

Vocabulary

| | | | |
| --- | --- | --- | --- |
| | challenging words: | | cobblestone, fourth-largest, lemur, southeast, coastal, favorite, arms, packed, story, interesting, adventure, goods, think, kinds, about, capital |
| | content words: | | Indian Ocean, And Madagascar |
---
Madagascar - Geography
By Ekaterina Zhdanova-Redman
---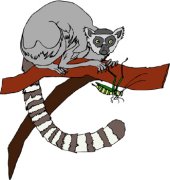 1
Think about your favorite story. Maybe it came from a book you've read. Or maybe it's from a movie. Does it have lots of adventure? Does it have a hero or a bad guy? Many people like stories about princesses and knights and castles and horses. Some people like stories about spaceships and aliens. And there are some who like stories about pirates. Are you one of those people?
2
Have you ever been to the ocean? It's a wonderful place with, of course, lots of water. It is amazing to look as far as you can see, and see nothing but water! Try to imagine a time when there were no airplanes. How would you cross the ocean? You would have to get on a ship and spend weeks out on the water.
3
There was a time when sailing was the only way to travel around the globe. People and different things were sent everywhere by ship. Tea was bought in China and then sent to England by ship. Sailors from Europe explored new places. Many times, they would send home gold, expensive jewels, and other things from their trips.
Paragraphs 4 to 9:
For the complete story with questions: click here for printable
---
Weekly Reading Books
---
Feedback on Madagascar - Geography


---
More Lessons



Copyright © 2018 edHelper